Veranstaltungen
Montag
30.01.
19:00 Uhr
Musik
thirsty & miserable
Camilla Sparksss (electronic noise-pop, Ontario)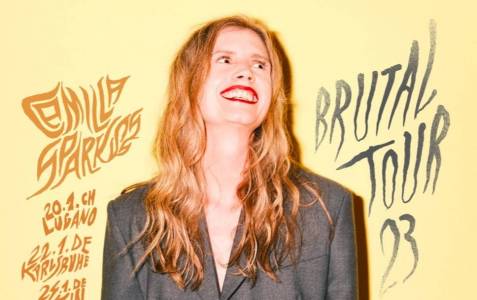 doors 19:00 - show 20:15
tickets: https://vvk.link/2fut5e8

Barbara Lehnhoff artistically known as Camilla Sparksss is a Swiss Canadian electro punk dance musician and visual artist. She was born at -30 degrees in Kenora, Ontario, a small town on the Great Lakes of Canada. Yes, she had a pet bear as a child and yes her father flew a float plane.
Camilla Sparksss is best known for her captivating live performance that combines a unique technique of mixing dub plate (vinyls), synthesisers and cutting vocals. "As an electronic musician coming from a punk background my biggest challenge was to create a physical live experience, by pressing my samples on dub plates I can play them as "real" instruments, the turntables become my guitars".
Her first album For You The Wild (2014) is an instinctive mixture of 80's dark wave experimental electronic music performed with a lo-fi dancer on stage, had her on stage as opening act for Jon Spencer Blues Explosion 2014 European Tour. In 2019 she released her second album entitled Brutal (On The Camper Records). A mixture of experimental, lo-fi electronic pop, and melodic collages of a wide range of genre styles, performed with turntables, fat synthesisers and cutting vocals. Brutal was followed in 2020 with a full remix album entitled Brutal Remix containing sixteen remixes by a variety of different artists such as French beat maker Fakear, electro clash artist Rebeka Warrior, American electronic wizard Mike Mare (Dälek) and many more.
Since 2014 Camilla Sparksss has played over 400 live shows across Europe, North Africa, Canada and the US in venues, theatres and festivals such as Kilbi Festival, La Machine Du Moulin Rouge, Holland Festival, Eurosonic, Centre Culturel Suisse à Paris and many more. In 2016 she was nominated for the Swiss Music Prize with her post punk band Peter Kernel. She is also co-founder of Swiss independent Label On The Camper Records.
Camilla Sparksss is currently preparing her new "audio visual" album entitled Camilla Sparksss Lullabies. That combines animated picture disc vinyls, that come to life through a phenakistoscope / magic mirror and other worldly melodic bedtime stories for adults entirely composed with endless grooves, mellotron and spoken words. The album is scheduled for release early 2023 for On The Camper Records.
At the moment Camilla Sparksss is touring three different live formats: an electronic pop performance of her first two albums For You The Wild (2014) and Brutal (2019) suitable for venues, clubs and festivals. An audio visual live performance of the upcoming Camilla Sparksss Lullabies (2023) album that integrates animated vinyl visuals in the performance, suitable for theatres, cinemas and special events. And an improvised set with dedicated sounds inherent to performance locations, this is an onsite performance on demand for specific festivals and special events.
Dienstag
31.01.
19:00 Uhr
Musik
little league shows
little league shows & puschen prsnt: PEEL DREAM MAGAZINE (indie/dream-pop, us) + HIGHEST SEA (indie/lofi pop, bln)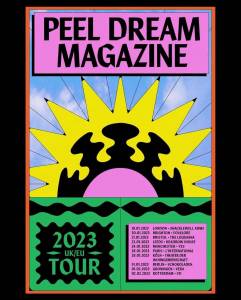 doors 19:00 - show 20:00
puschen & little league shows prsnt:

PEEL DREAM MAGAZINE /// indie/dream-pop, us, tough love recs
peeldreammagazine.bandcamp.com/ /// instagram.com/peeldreammagazine/

& HIGHEST SEA /// indie/lofi-pop, bln
highestsea.bandcamp.com/ /// instagram.com/highestsea/

at Schokoladen. doors 19 uhr, concert starts 20 uhr. tickets at the doors and in pre-sale --> https://vvk.link/2fag4i8

---
"On his second PEEL DREAM MAGAZINE record, Isn't Anything-era My Bloody Valentine dream-pop crushes hard on effervescent Stereolab melodies in a satisfyingly smooshed pastiche" NPR

"You can hear shoegaze and classic Velvet Underground-style zone-outs and krautrock-indebted art-pop all colliding in the band's songs" Stereogum

The follow-up to 2020's breakthrough album Agitprop Alterna, Pad presents a major sonic evolution for the 34 year old songwriter, who moved to Los Angeles amid the cataclysm that same year. Seventies era drum machines and synthesizers remain here, but he's traded his buzzing offset guitar for a nylon-string, opting for a gentle baroque pop sound steeped in Bossa, folk, and its own eerie mysticism. Alongside mid century touchstones like Burt Bacharach, Stevens draws on the cultishly-beloved tinkerings of late-1960s Beach Boys, offering a surreal melange of vintage organs and found percussion, as well as Harry Nilsson's 1970 song tapestry The Point!.

And similar to The Point!, Pad is a conceptual work reflecting on isolation and identity. The album tells a bedtime story in which Stevens' bandmates kick him out of Peel Dream Magazine – banished and now without purpose, he sets out on a journey to rejoin the band. Misadventures ensue, such as when he joins a cult on "Self Actualization Center", featuring friend and oft collaborator Winter. But this is also music that's purely pleasurable in its own context, as our protagonist explores the boundaries of easy-listening with discordant textures, and bleeps and bloops that tickle. Songs like "Pictionary" chime delicately with sinister intent, evoking a palette that is outright Mod. Pad also recalls the space age bachelor stylings of Stereolab and The High Llamas, with an occult twist that borrows from Tropicalia legends Os Mutantes.

While Pad sounds beautiful, there's a certain darkness to it as well. Stevens is addressing our general ambivalence toward the future of everything we know, informed partly by his time in New York at the onset of the pandemic. On "Hiding Out", he laments: Wander past the Vernon Mall, and up to Queensboro Bridge. Made to feel I'm two feet small, but that's no way to live. Ultimately, Stevens is embracing a first-thought-best-thought approach, leaning into the fantastical elements of his own life story. Pad is as archetypal as it is strange, blurring the very lines that it asks to be defined by. Art imitates life, but life imitates art too – and the results can sometimes be unpredictable.

---
Highest Sea takes us on a journey under the burning sun and into the night, carried on a wave of melancholic and solar indie rock. Behind the name is songwriter Leïla Zanzibar, whose raw and mystical vocals tell bewitching stories about haunted hearts guided by the call of the sea. Zanzibar's main influences range from The Velvet Underground to Bob Dylan and Jeff Buckley, with Beach House or Atlas Sound making their marks along the way. Started as a solo project, Highest Sea has evolved over the years from a duo into a four piece, opening for bands such as Sasami, Lala Lala or Hand Habits and performing in Paris (Supersonic), Vienna (Porgy & Bess), Prague and all over Germany.


Zanzibar's debut EP Haunted Hearts was released by Späti Palace in 2017. In 2019 Duchess Box Records (Laura Lee & The Jettes, Shybits, Gurr) released the single I'm on the Moon as well as her second EP Haven, produced by Joe Kelly (Mother of the Unicorn). Since the release of her last single Dreaming Awake (2020), Zanzibar has been focusing on songwriting for her debut album and forming a new line-up.

- - -
Gefördert von: Der Beauftragten der Bundesregierung für Kultur und Medien ("BKM") und der Initiative Musik.
Mittwoch
01.02.
19:00 Uhr
Musik
Lofi Lounge
loFi lounge prsnts: Sorry Gilberto [indie°bln] + Rico Lee And The Black Pumas
www.sorrygilberto.com

https://open.spotify.com/album/5nkNN9aG1AyYJ8p5E37YWA

Sorry Gilberto Berlin, Germany

Sorry Gilberto are Anne von Keller and Jakob Dobers. They write lyric-driven songs that are melancholic, witty and playful in the same time.
With surprising twists in structure and sparse instrumentation they combine simple folk- and glamorous pop-elements and create a very unique atmosphere
"Let's go backwards through the sand / let's walk the shoreline 'til it ends" are the first lines of the first song on Sorry Gilberto's fifth album PSYCHOACTIVE GHOSTS, which will be released on July 29th 2022 on Solaris Empire. Anne von Keller's and Jakob Dobers' voices sound in unison and are immersed in a kind of mantra, while in the background the guitars jingle and jangle, West Coast-style.
Leaning backwards against the wind, drifting and catching the waves wafting in from the sea: it all fits well on this record, which gives space to individual sounds within the songs and allows for the kind of layering that gives depth and beauty to the music.
A partly 60s-inspired singer/songwriter pop has emerged, which is sometimes reminiscent of Ennio Morricone, as in the cinematographic duet "Bird (on my shoulder)." But it can also sound like driving French pop à la Gainsbourg, as in "The Beach" with its sharp guitars and beat combo drums, or even like the Velvet Underground in the summer of '69, in "Black Leather Jacket." Other decades are also effortlessly transformed on PSYCHOACTIVE GHOSTS: the 80s beckon in the dark and stoically elegant "Animals In The Night" with chorus guitars and glamorously distant vocals. And maybe someone thinks of Mazzy Star and videos on... more
www.sorrygilberto.com
https://www.facebook.com/sorrygilbertoband/
https://sorrygilberto.bandcamp.com
www.solaris-empire.de
spotify:artist:2hMyFr8pFw1mjUyEmQrb14


Rico Lee And The Black Pumas

Rico Lee And The Black Pumas play slow americana music but it's funky. It is minimal but with stadium rock guitar solos.
It is a blues jam but it's also shoe gaze indie. Their music carries a deep love for Neil Young but also for Prince.

Rico Lee has been playing guitar for The Still and released two Albums under his alter ego Rico Repotente.
The second,"Dust On The Halo" is the basis for the Album "Rico Lee And The Black Pumas"

https://open.spotify.com/album/5nkNN9aG1AyYJ8p5E37YWA
Donnerstag
02.02.
19:00 Uhr
Musik
little league shows
little league shows prsnts: TRAMHAUS (post-punk/garage, nl) + tba.
doors 19:00 - show 20:00, aftershow djs tba.
little league shows prsnts:

TRAMHAUS (post-punk/garage, nl) + tba.

at Schokoladen. doors 19 uhr, concert starts 20 uhr. tickets at the doors and in pre-sale --> vvk.link/2gsia8g
aftershow djs tba.

---

Tramhaus is a band which flourishes in the unknown and enjoys looking for the boundaries
of the common ground. With their overwhelming live energy, they will be able to turn
venues into sweating crowds which will be sucked in the hypnosis of the post-punk music of
the likings of bands such as Viagra Boys and Pissed Jeans. The flawless dance moves of
frontman Lukas Jansen in combination with the gashing guitars and propelling drums, gives
the live experience an almost frantic feeling. The band is being praised internationally for its
lively and energetic live shows which can be admired throughout Europe in the coming year.

- - -
Gefördert von: Der Beauftragten der Bundesregierung für Kultur und Medien ("BKM") und der Initiative Musik.
Freitag
03.02.
19:00 Uhr
Musik
SONIC BOOM
Gulag Beach (Punk) & Hatehug ( Hardcore Punk)
Was sind das nur für seltsame Bandnamen? Hassen, Gulag, Umarmung, Strand - wenn das mal nicht irgendwas mit Punk und/oder Hardcore zu tun hat? Hat es! Die nihilistische Hardcore-Dampfwalze HATEHUG aus Babelsberg rollt auf dem Melodic-Punk-apokalyptischen GULAG BEACH in der Hauptstadt ein. Ein Schokoladen-Abend voller Bitterkeit und Süße.
Samstag
04.02.
19:00 Uhr
Musik
Punkfilmfest Berlin Booking
The Dead Irish (Trad Dublin Punk) + Drückerkolonne (Gypsi-Musette-Punk-Folk)
DJ Karacho Rabaukin (Balkan) from 10 pm
The Dead Irish - traditional Punk from Dublin, sounds like Dublin, feels like Dublin.


Drückerkolonne ist eine Gypsi-Musette-Punk-Folk-Band, die es ernst mit dem Spaß meint!
#antifa #dublin #irishpunk #irland #ireland #punk #punkrock #berlin #schokoladen #schokoladenberlin #punkshow #party
Montag
06.02.
19:00 Uhr
Musik
thirsty & miserable
A VOID (Three-piece sonic Grunge band from London/Paris) + RIOT SPEARS (Grunge/Angry Pop from Berlin)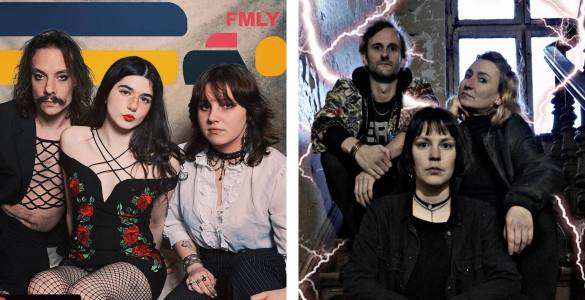 doors 19:00 - show 20:00
tickets: https://vvk.link/2hajpv4

A VOID are Camille Alexander – vocals, guitar / Marie Niemiec – drums, backing vocals / Aaron Hartmann – bass.
A VOID are a self-styled 3 piece rock band based in London, UK. Two parts Parisian, one part
Londonian, they fuse the spirit of sonic grunge to a DIY punk aesthetic fueled by Boursin Cheese
and pickle juice. Influences include Sonic Youth, Hole, Deftones, Bjork, Daniel Balavoine, Charles
Aznavour.
Formed in Paris by singer/guitarist Camille Alexander in 2015, the band unleashed their first EP,
Roses As Insides, in June 2016, before cannibalistic tendencies got the better of original drummer
Roman Zaborski and bassist Robin Dickinson. Camille quickly enlisted the hard- hitting drumming
skills and harmonious vocals of Marie Niemiec, before they sought exile in London. The band
gigged as a two-piece until they discovered their bassist, Aaron Hartmann, lurking on a park bench.
The band independently birthed their debut full-length album, Awkward And Devastated, in
November 2018, and celebrated by performing dual album release gigs at The Windmill in Brixton
and Supersonic in Paris.
In March 2019, A VOID were the only band that featured female musicians to be shortlisted from
300 applications for the Northern Exposure/INmusic Festival contest, and were invited to perform
in the final at the legendary Cavern Club in Liverpool. The previous year's winner were False
Heads.
The band self-released their second album Dissociation in September 2022, from which they
released five singles: Sad Events Reoccur, Stepping On Snails, Newspapers, 5102 and Sick As A
Dog. Each of these singles comes along with a music video with unique sets carefully imagined and crafted by the band themselves, directed and edited by frontwoman Camille Alexander, featuring
paper planes, snails crawling on their faces, and piles of newspapers.

The band celebrated the release of this second album with a packed show at the Shacklewell Arms
which they organized themselves, and a live showcase and signing of their 12" vinyl (distributed by
Punk Fox Records via Rough Trade) at Rough Trade East.


Riot Spears
are Mata (voc, git) , Matti (drums) and Svenjo (bass)
grunge & angry pop from Berlin.
no service, no expectations, no judgement, only music.
strictly antifascist and anticapitalist.
Freitag
10.02.
19:00 Uhr
Musik
OFFBEATCLUB
Wood In Di Fire (Ska, Jazz, Reggae, Rocksteady) & Everything Crash (DJ-Set)
22h Everything Crash DJ-Set (laboratory for Ska, Rocksteady & Early Reggae)
Mit Jamaican Jazz und handfesten Reggae-Grooves bringen Wood In Di Fire bei ihren Live-Sessions die Dancehall zum Toben. Was als Jam-Projekt von Musikern aus verschiedenen Berliner Bands begann, hat sich zur festen Formation entwickelt. Doch der Session-Gedanke ist immer noch lebendig: Die Bandmitglieder und Gäste bringen die verschiedensten Einflüsse aus Reggae, Jazz, Ska, Latin und Afro-Beat mit und sorgen damit immer wieder für überraschende Kicks.
Seit das Projekt im Jahre 2000 startete, spielt Wood In Di Fire traditionell im Berliner "Schokoladen". Der bis heute monatlich stattfindende Reggae-Jam wurde schnell vom Geheimtipp zum etablierten Termin der Berliner Reggae-Szene.
Samstag
11.02.
19:00 Uhr
Musik
Süper!Nice!
Schrottgrenze - Release Party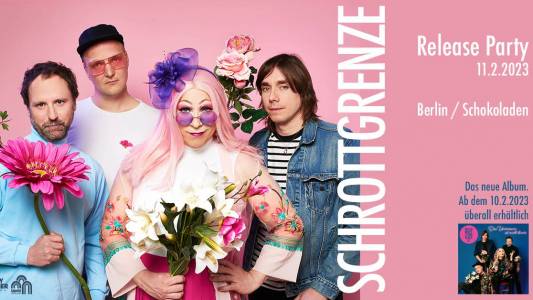 Schrottgrenze - Release Party
Einlass: 19 Uhr
Beginn: 20 Uhr
*** *** *** *** *** *** *** *** *** ***
Emo-Deutschpunk in den Neunzigern, Indierock-Experimente in den 2000ern und mittlerweile im queeren Power-Pop zu Hause: SCHROTTGRENZE bringen am 10.2.2023 auf Tapete Records ihr zehntes Album »Das Universum ist nicht binär« heraus. Im Schokoladen spielen sie einen Tag nach der Veröffentlichung ihr Release Konzert.
*** *** *** *** *** *** *** *** *** ***
Dienstag
14.02.
19:00 Uhr
Musik
M:Soundtrack
M:Soundtrack presents: Michael Feuerstack (Snailhouse/Can) + Mark Berube (Bln/Can)
Mike Feuerstack has been visting Schokoladen playing in various configurations and monikers but always consistently good music. ! We love Mike's lyrics and the observations which fit so well and are still echoingin the rafters of good old schokoladen, which has soaked up so much good music and cozy evenings over the years bringing us through those dark season of fall/winter. So iron out your fave flannel and join us and his fellow Canadian friend now Berliner, Mike Berube (Kliffs)
Michael Feuerstack is a songwriter, musician, and producer based in Montréal, QC. In his nearly 3 decades-long presence in the musical world, he has penned a deluge of records, collaborated with countless internationally renowned talents, and impressed those who encounter his work with his curiosity, musicality, and agility across genres. Feuerstack's solo career (formerly under the name Snailhouse) comprises a collection of songs that simultaneously comfort and confront. In both lyrics and music, Feuerstack seamlessly passes from traditional to experimental – revealing a willingness to engage in both contemporary and traditional forms. His explorations have resulted in a staggering body of work, beloved to many. His varied ongoing pursuits reflect a relentless appetite for growth, and a responsiveness to change, as well as a respect for the greats. In all of this, Feuerstack strikes a musical balance that pays the highest respect to the listener.
Feuerstack's current and past artistic partnerships include composition and instrumental contributions to Bell Orchestre, Julie Doiron and the Wooden Stars, the Luyas, and many more. For this work he has earned two Junos and a number of other accolades. He is equally known for his collaborative work with choreographers and filmmakers and for producing and mixing albums for both internationally regarded artists as well as for young artists emerging on the scene. Feuerstack is first and foremost a true artist. He is a tireless creator, collaborator, a seeker of stories to tell, and new ways to tell them.
https://michaelfeuerstack.com/site/
https://michaelfeuerstack.bandcamp.com/album/harmonize-the-moon
Mark Bérubé is a Canadian folk artist who already produced four albums and toured successfully in his homeland and Europe. Together with Kristina Koropecki supporting him on the cello, he creates narrative soundscapes that are influenced by traditional North American folk music, spoken-word, South African music and jazz. The result of this musical openness are emotional, touching songs, which quickly captivate the listeners and take them on a diverse journey between musical freedom and poetic artistry.
https://www.youtube.com/watch?v=OOXbKy5UhJ4
https://kliffs.bandcamp.com/track/undertow

--