Veranstaltungen
Donnerstag
30.11.
19:00 Uhr
Musik
thirsty & miserable
[Sold Out] Dream Nails (Queer Punk Power, London) + Riot Spears (Grunge/Angry Pop , Berlin)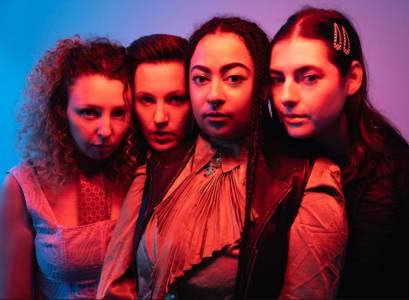 doors 19:00 - show 20:00 - danach DJ Schapur (Punk/Postpunk/NDW...)
Dream Nails is the (r)evolutionary all-queer political punk collective that transcends boundaries. Their music inspires change, action, and hope, going beyond punchy anthems. Formed from a mix of drag shows and deep friendships, they challenge society's norms with their upcoming album exploring "gender fuckery." Dream Nails is not just a band; they are a political statement and a safe haven for marginalised communities.

"Bright, brash and brilliant" -DORK
"A riot" -The Independent
"An effervescent senseof fun that fizzes throughout" –DIY


Riot Spears
grunge & angry pop from Berlin
strictly antifascist and anticapitalist.
v
Freitag
01.12.
19:00 Uhr
Musik
süper!nice!
Live! Drens (surfpunk/dortmund) + Spirit Design (indie/it/berlin) + after 22h: there she goes DJ team
Ab 22 Uhr there she goes dj team (60s/indie/alternative)
Live! Drens (surfpunk/dortmund) + Spirit Design (indie/it/berlin)
Einlass: 19 Uhr
Beginn: 20 Uhr
Ab 22 Uhr: there she goes dj team (60s/indie/alternative)
Tickets: https://vvk.link/2pxe4sw
Drens spielen Surfpunk!
Als wilder Vierer in Dortmund, Europas Schnurrbarthauptstadt gegen Ende 2017 durch eine gemeinsame Liebe zu Halloumi und Lo-Fi Melodien gegründet, haben Drens nun mit "Pet Peeves" ihre Debüt-EP inmitten von Isolation und Frühlingsdrang geworfen.
Folgendes Szenario: Eine Stadt in Technicolor, aquamarinblauer Himmel, grüner Rasen, auf dem Flamingos staksen. Wellenrauschen, aus der Ferne weht Gelächter, Strandszenen. Aber je länger man in dieses Szenario starrt, desto grellerblendet die Sonne, desto schriller klirrt das Gelächter. Es könnte alles so schön sein, aber eine kleine, böse Wolke verdeckt die Sicht, ein Stein steckt im Schuh.
Doch vorsicht, spoiler Alert - so gelingen Drens mit ihren Songs ein seltener Spagat: Der Blick für die Beschissenheit der Dinge ist wach und geschärft und wird trotzdem nicht blind für all das Schöne und Gute. Und so sind die Songs nicht nur Fragen, sondern auch Antworten auf die vorangegangenen Probleme, sind Schulterklopfer, ein aufmunterndes Nicken und zwei Bier an der Bar. Der sich schon auf der DIY-Singlecompilation "Sunny Side Up" kristallisierende Surf-Sound wird weiter ausgearbeitet, woran auch der Produzent einen gewissen Anteil haben dürfte: Steffen Israel, seines Zeichens Gitarrist bei Kraftklub feiert hier sein Produzentendebüt und transportiert den fuzzy Retro-Sound der Band ins Jahr 2020.
Am Ende schreiten Drens hoffnungsvoll in die gleißende Sonne. Diese Wärme und Detailverliebtheit gibt den Texten eine bitter-süße Leichtigkeit, Joy Divison im Hawaii-Hemd, Surfen vor einer brennenden Küste. Die flirrende Live-Energie wird hier in Form gegossen und verwandelt öde Vororte in südkalifornische Teenage Utopias. Ist das nicht der beste Schritt für dieses neue Jahrzehnt?
Samstag
02.12.
19:00 Uhr
Musik
SONIC BOOM
live: Blind Butcher (minimalistic, danceable, madness - CH) & Ixzhilion (Space, Trash, Rock - Bln) + after 22h DJs elmo & eggeschegge (soul rock punk funk …)
doors 19, show 20h, after 22h DJs
What the... waterfall release! Blind Butcher nahmen es wörtlich und veröffentlichten im
Jahr 2022 jeden 22. des Monats einen neuen Song – NOT. Den November nämlich
sparten sie aus. Dafür präsentiert uns das frivole Duo aus Luzern am 24. März 2023 nun
die komplette Sammlung, digital und auf Vinyl: «Catch 22» beinhaltet 12 Tracks, die
abwechslungsreich, verspielt, brachial, sowie einmalig sonder-, wunder- und tanzbar
sind.

Die neonfarbenen Weltall-Illustrationen von Corinne Odermatt begleiteten jede Song-
Veröffentlichung mit Verve und sicherem Geschmack: Der zwölfseitige Jahreskalender, der
jeden Monat einen neuen Song zum Download präsentierte, war sozusagen Blind Butchers
Antwort auf die immer salonfähigere «waterfall release»-Strategie. Wenn sich
Veröffentlichungsstrategien aktuell dem Streaming-Diktat unterwerfen, dann wenigsten mit Stil
– und Haptik. Womit wir auch beim Thema wären, denn im März 2023 erscheint «Catch 22»
nun auch auf Vinyl!

Christian Aregger und Roland Bucher, seit 13 Jahren als Blind Butcher unterwegs, mussten
den Songwriting-Prozess für diesen speziellen Release etwas anders als gewohnt angehen.
Da die Idee für «Catch 22» im Spätsommer 2021 entstand, mussten die ersten Tracks, wie
auch die 12 Artworks sehr schnell entstehen. Schliesslich sollte der in limitierter Auflage
erhältliche Kalender auf Weihnachten hin erhältlich sein, um pünktlich zum 1. Januar 2022 hin
die Wohnungen von 150 glücklichen Kalenderbesitzer*innen zu verschönern.
In drei Aufnahmezyklen entstanden also die 12 Songs, die den Charakter des jeweiligen
Monats wiedergeben.
+ after 22h: adding stardust to reality w/ DJs elmo & eggeschegge (soul rock punk funk …)
Montag
04.12.
19:00 Uhr
Musik
little league shows
little league shows & puschen prsnt: ABRACADABRA (post-punk-disco-dub, us) + DIE ANTEILE (lofi dance-punk, bln)
doors 19h - show 20h
puschen & little league shows prsnt:
ABRACADABRA /// post-punk-disco-dub, us
abracadabraoakland.bandcamp.com / instagram.com/abracadabra.band/
+ DIE ANTEILE /// lofi robot-rock X dance-punk duo, bln
dieanteile.bandcamp.com / instagram.com/dieanteile
at Schokoladen. doors 19 uhr, concert starts 20 uhr. tickets at the doors and in pre-sale --> https://vvk.link/2u74974
---
Diving into decades of electronica and crunchy sound effects, field recordings and animal sounds, blended with an infectious Latin influence, Californian duo abracadabra's new album 'shapes & colors' shimmies with the charismatic energy of Lizzy Mercier Descloux, the dub hits of Scientist, and the idiosyncrasies of Deerhoof offering an ornate alternative to traditional guitar pop chord progressions as they layer danceable motifs.
'shapes & colors' has been described as "a mind-expanding experience, well worth the backwards time travel" (The Quietus). "If the fantasy of a King Tubby-produced Tom Tom Club floats your boat, then this infectious debut will surely hit the spot." (Electronic Sound) and, it "Bristles with contemporary freshness and wonky charm" (Uncut). Their lead single 'talk talk' was a hit among the folks at the BBC, making its way onto The 6 Music Playlist.
abracadabra hit the road earlier this year with their 5-piece live band, touring to SXSW before a series of dates in the UK supporting The Go! Team. They're thrilled to hop across the pond again later this year, this time as a headliner with dates in the EU as well as the UK.

---
Berlin-based duo DIE ANTEILE's sound falls somewhere between Robot Rock and Electro Dance Punk. They prefer to keep both feet in the clouds and their hands in the suitcase. Inside live mostly cables, plug connectors but also some rather small instruments from which Die Anteile, armed with guitar or bass, elicit their songs. The vocoder holds a special place in their heart and suitcase, distorting the Dada- and cut-up-inspired lyrics or releasing them into the room as Sprechgesang. Die Anteile draw inspiration from the fidgety and franticness of Talking Heads, DAF, Peaches as well as Ryuichi Sakamoto. They like to foam up their tracks to a neo-psychedelic mixture, overturn song structures and remain electro pop curious.
Mittwoch
06.12.
19:00 Uhr
Musik
Lofi Lounge
loFi lounge prsnts: UYUY [indie°bln] + Carolina Lee [indie°bln]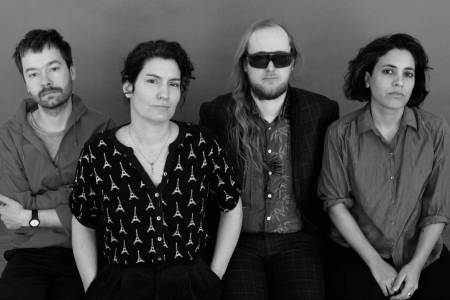 Uyuymusic.bandcamp.com
YT Video Live Carolina Lee - Down on My Uppers
https://youtu.be/rKCdYjzvLak?feature=shared
CAROLINA LEE
Carolina Lee's slow and dusky Dream Pop vocalizes stories and reveries over a subtle musical arrangement. The songs draw the audience down into the deep end - to be carried by a sound that corresponds with the past and is still completely at ease in a melancholy and playful present. The song lyrics often deal with themes like farewell, sadness, alienation, and longing. A tension is created that is sometimes reminiscent of the dark timbre of Karen Dalton or the dreamy simplicity of Mazzy Star. In 2021 the band from Berlin released their debut `Haunted Houses´.
PRESS
Haunted Houses is not a homage to other musicians. It is a dreamy, independent, and sometimes stubborn debut album. (Tagesspiegel)
Whoever moves as a band in the sound environment of Mazzy Star, Velvet Undergound and Karen Dalton needs a good deal of originality to stand out from the role models. Or a fantastic singer like Nadja Carolina, who masters the cool, controlled timbre and draws the listener deep into the songs. In addition, the no less great band delivers varied, always minimalistic sound sketches. (Aachener Zeitung)
Uyuymusic.bandcamp.com
https://youtu.be/_pN4c2__uPk?feature=shared
https://youtu.be/rKCdYjzvLak?feature=shared
UYUY
Uyuy is a five piece latin-fussion band based in Berlin. Their style merge jazz, art rock, latin, post punk, and prog music in a groovy way. All of the members come from different parts of South america which gives most of the identity to the band.
Uyuymusic.bandcamp.com
Donnerstag
07.12.
19:00 Uhr
Musik
M:Soundtrack
M:Soundtrack: Vignettes Series #4 w/ Nansea + Kota No Uta + Riah Knight |
Thursday's good music and cheap drinks
M:Soundtrack: Vignettes Series #4 w/ Nansea + Kota Uta No + Riah Knight | 07.12.2023 LIVE @ 8 p.m.- 10 p.m.
Vignettes: A new concert format that is about discovery, about introducing and supporting new artists, and also honouring artists whose careers we have been following and show respect for what they have been creating, they know the hustle. We see them as mentors. We wish to offer the space and stage on these evenings for artists both new and established to present new work, or to experiment with new set ups, or collaborators. However they choose, we want to create a supportive and open setting that is not bound to a commercial or traditional music industry atmospshere. This format is to encourage a Peer to Peer - Artist exchange. And of course new fan love.
M:Soundtracks intention is to bring more support, humanity and community within the confines of the independent music industry so we can look towards sustainability and longevity of all of our careers. We should be connected but many are out there not feeling it - lets re-connect and move forward together.
3 Artists perform per event. They are encouraged to open a dialogue with the audience, either to find collaborators, ask for help, offer their services, announce coming events and to network after the show.
Please join us for a Beautiful evening of great talent and empowerment!
Nansea (ˈnænsi) takes her name from a homophobic slur, reclaiming then submerging it in a cooling balm of polyphonic fractals, waves of synth crashing against 80's-inspired drum machines, and the lull of a calm ocean on a moonlit night. Above it all floats the glide and glitter of the wonderous voice of Marek Polgesek (he/she/they), a voice both so settled and grasping, ecstatic and full, that it defies genre and gender boundaries—existing in a secret realm between Rosalia and Ravel. Polish-born, but raised in a small German town after their family relocated—a time also marked by the loss of her father—Nansea eventually found himself in Berlin, buffeted by swells of techno, operatic arias, and the internationalist artists of the queer and pop strata of the capital. Performances rippled out in wider concentric circles, from the bars and theatres of Kreuzkölln, to Berlin institutions like HKW, Berghain Kantine, and Torstrassen Festival. Collaborations with poets, musicians, and dancers flowed into work with the queer club collective GOLOSA, as well as with Colin Self and others on the 2021 Sheena McGrandles project Dawn. A lyrical focus on themes of community, the queer experience, and the dismantling of gender has manifested itself in a fluid and evolving style, shifting from 2019's Comfort EP, recorded with a neo-baroque quintet, to their upcoming, as-yet-untitled 2023 release, featuring undulating solo arrangements of synth and bass, opening up an untapped ocean of sound that pulses with an unchecked rhythm. https://nansea.bandcamp.com/
Kota No Uta is a Berlin-based producer and singer-songwriter. She performed her very first stage show some months ago and now she is really ready to shine. Her experimental sound is rooted in neo-soul, jazz, and folk music. A story teller, by nature, Kota writes her lyrics through the prism of metaphor and mythology, often inspired by daily observations of surroundings. This year Kota won a Female* Producer award, meanwhile releasing collaborative singles with various producers that are being played on world radios. Following one after another the singles eventually shape the story, the ending of which will be revealed by the last single in the middle of 2024. https://kotanouta.bandcamp.com/
Riah Knight is a singer-songwriter and actress based in Berlin. Of dual heritage British Romani descent, Riah grew up surrounded by the Romani activist movement through which she was both politicised and given a platform to perform.

Musically she works at the intersection of trip-hop, RnB, new-wave folk and performance poetry. Together with producer Shaban, her sultry sound weaves through a landscape of strong female archetypes and symbols of the natural world. Ethereal and soulful, Riah's music can be both deeply personal and playfully political.
The musician first became known for her writing, composing and performing for theatre, and in 2022 was nominated by the Theater Heute critics as one of the Best Upcoming Actresses of the Year. She has worked extensively with director Yael Ronen and is part of the feminist collective Glossy Pain.

In 2020 Riah co-wrote The Rain with Verbz & Mr Slipz, the track was released with High Focus Records and remixed by Alix Perez. April 2021 saw the release of Knight in Neukolln, Riah's debut single with Berlin label Get Together. This was followed by the collaborative release Riah Lick Your Wounds later the same year. In September 2022 Riah released a second collaboration with Mr Slipz, Losing Daylight, on Blunt Shelter Records.
https://riahknight.bandcamp.com/music
https://www.riahknight.com/
Freitag
08.12.
19:00 Uhr
Musik
OFFBEATCLUB
Wood In Di Fire (Ska, Jazz, Reggae, Rocksteady) & Everything Crash (DJ-Set)
22h Everything Crash DJ-Set (laboratory for Ska, Rock Steady & Early Reggae)
Mit Jamaican Jazz und handfesten Reggae-Grooves bringen Wood In Di Fire bei ihren Live-Sessions die Dancehall zum Toben. Was als Jam-Projekt von Musikern aus verschiedenen Berliner Bands begann, hat sich zur festen Formation entwickelt. Doch der Session-Gedanke ist immer noch lebendig: Die Bandmitglieder und Gäste bringen die verschiedensten Einflüsse aus Reggae, Jazz, Ska, Latin und Afro-Beat mit und sorgen damit immer wieder für überraschende Kicks.
Auf zahlreichen Touren durch Deutschland, Österreich, Frankreich, Spanien, Ungarn und der Schweiz begeisterten Wood In Di Fire ihr Publikum mit ihrer außergewöhnlichen, interkontinentalen, musikalischen Fusion auf treibenden Reggae Beats und Jazzy Grooves.
Seit das Projekt im Jahre 2000 startete, spielt Wood In Di Fire traditionell im Berliner "Schokoladen". Der bis heute monatlich stattfindende Reggae-Jam wurde schnell vom Geheimtipp zum etablierten Termin der Berliner Reggae-Szene.
Samstag
09.12.
19:00 Uhr
Musik
thirsty & miserable
[Sold Out] duesenjaeger (Punk, Osnabrück) + Oiro (Punk, Düsseldorf) - Berlin Tour 2023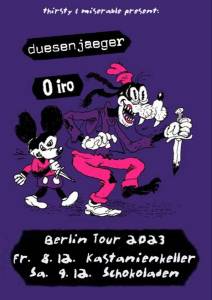 doors 19:00 - show 20:00
08.12.23 21:00 Kastanienkeller (Nur Abendkasse / no presale)
09.12.23 19:00 Schokoladen - (Ausverkauft / sold out)

duesenjaeger ...singen, abgesehen von einer kurzen Schaffenspause zwischen 2008 und 2010, seit 1999 die Lieder, die wir hören wollen. Deutschpunk oder auch Punkrock mit deutschen Texten. Hier geht von andächtig lauschen bis hin zu lauthals mitgröhlen alles, da die vier Herren, ursprünglich aus Osnabrück, das komplette Spannungsfeld zwischen schnellen eingängigen bis wütenden Punkrocknummern und ruhigen, düsteren Songs bedienen und hiermit gleichzeitig den gelungenen Spagat zwischen absoluter Eingängigkeit und gefühlter Traurigkeit hinlegen. Kurz gesagt: emoll. melancholisch, eingängig, treibend und wütend...
Oiro ist eine Punkband, die ohne Staub und Schleim erfreulich weit weg von Blackpool beheimatet ist, nämlich Düsseldorf. Eine Stadt, aus der viele gute Bands kommen und auch viele schlechte.
Montag
11.12.
19:00 Uhr
Musik
little league shows
puschen & little league shows prsnt: LAUNDROMAT CHICKS (indie, wien, siluh recs) & HIGHEST SEA (dream pop/indie, bln)
doors 19:00 - show 20:00
puschen & little league shows prsnt:

LAUNDROMAT CHICKS / indie, wien, siluh recs
laundromatchicks.bandcamp.com / instagram.com/laundromatchicks

& HIGHEST SEA / dream-pop/indie, bln
highestsea.bandcamp.com/ / instagram.com/highestsea/

+ DJ future sailor (my little underground / some kind of happening / wddim ...)

at Schokoladen. doors 19 uhr, concert starts 20 uhr. tickets at the doors and in pre-sale --> https://vvk.link/2ubl08g

---
After their debut "Trouble", LAUNDROMAT CHICKS present a new album that touches on much quieter tones. band mastermind Tobias Hammermüller produced with Martin Rupp (Jansky), has "Lightning Trails", which become a folky manifesto for the quiet nuances that we desperately need. For two or three seconds we hear the sound of the sea. This is followed by two bars of bass with some sort of drums. But what happens next is not easily described: It's a bit like suddenly falling into a hole in the middle of the street. After a moment of surprise we open our eyes and find ourselves somewhere else. We are now in the maelstrom of the Austrian indie band Laundromat Chicks. Beaming hasn't been invented yet, but what the record Lightning Trails puts down comes pretty close.
The first album Trouble, with which the band made a name for itself in 2021, still hid music and vocals behind all kinds of fuzz filters and slap-back delays. Lightning Trails now dares to take a step back - away from computers and drum machines and towards everything that sounds. Together with Martin Rupp (Jansky) Tobias Hammermüller recorded seven songs - In a small house in Lower Austria, which they visit regularly, Tobi's song sketches are turned into small works of art . Detuned guitars, gentle piano scraps, fuzzy sounds. It's not grand gestures that make this album greater than the sum of its parts.
Lightning Trails will be the album that sends the band on a journey, that's for sure. If you can still feel a little, you'll notice that songs like Sunday Mystery or Never Return are knitted from such fine fabrics, you almost forgot they existed. They're songs that are every bit the equal of Belle & Sebastian's early work, songs that we need more than ever in this age of domesticated egomania. Indie has always somehow invoked the superpower of nonattendance, making the exaltation of the normal the chosen stylistic vehicle. Following this quiet-is-the-new-loud dogma, Lightning Trails nonchalantly escapes contemporary fashion trends and acts as a counterdraft of a hucksterish pop of the present. And this despite the fact that the band itself is part of an increasingly large Viennese post-punk scene that grows and grows under the radar of media coverage.
Lightning Trails takes us tenderly by the hand and abducts us in a way that has become a rarity nowadays. In the songs Tobias Hammermüller creates surreal worlds, for which the 19 year old is inspired by old movies to interweave them with stories from the suburb of St. Pölten. Thus his lyrical self tells of the way to the supermarket, where someone is wearing exactly the same shoes as he is, only cooler. He sings: "Do you wanna be in my band?" In reality, however, a band already exists. Lena Pöttinger, Felix Schnabl and Theresa Strohmer complete Laundromat Chicks. Theresa Strohmer is also the one who creates some surprise moments on the record. When she sings the lines "You make me seasick / Just hanging around" on the aforementioned Never Return, one no longer knows where up and down is. A magic that resembles the joint tracks of Kings of Convenience and Feist.
Lightning Trails is a masterpiece of musicality and restraint at the same time, an ode to dreaminess and thoughtfulness in times of turmoil and clashing ideologies. It is somehow an invitation to climb out the window to view an unhinged world from a hidden ledge. Similar to the afterglow of a flash on the retina, in the near distance. (Paul Buschnegg)

---
HIGHEST SEA takes us on a journey under the burning sun and into the night, carried on a wave of melancholic and solar indie rock. Behind the name is songwriter Leïla Zanzibar, whose raw and mystical vocals tell bewitching stories about haunted hearts guided by the call of the sea. Zanzibar's main influences range from The Velvet Underground to Bob Dylan and Jeff Buckley, with Beach House or Atlas Sound making their marks along the way. Started as a solo project, Highest Sea has evolved over the years from a duo into a four piece, opening for bands such as Sasami, Lala Lala or Hand Habits and performing in Paris (Supersonic), Vienna (Porgy & Bess), Prague and all over Germany.

Zanzibar's debut EP Haunted Hearts was released by Späti Palace in 2017. In 2019 Duchess Box Records (Laura Lee & The Jettes, Shybits, Gurr) released the single I'm on the Moon as well as her second EP Haven, produced by Joe Kelly (Mother of the Unicorn). Since the release of her last single Dreaming Awake (2020), Zanzibar has been focusing on songwriting and recording her debut album with her new line-up.
Dienstag
12.12.
19:00 Uhr
Musik
thirsty & miserable
Sudden Infant (Industrial-Dada-Noise-Rock, Swiss) + Puna (Experimental/Free Jazz, Bln)
doors 19:00 - show 20:00 - danach DJ Grrrt
Tickets: https://vvk.link/2xwhcpc


SUDDEN INFANT is a Swiss Industrial-Dada-Noise-Rock trio with Joke Lanz on vocals & electronics, Christian Weber on bass and Alexandre Babel on drums.


PUNA
:
Olaf Rupp
plays Improvised Music on the acoustic and electric guitar. The organic flow of his music is guided neither by chance nor by dominant, willful decisions. To him the same level of focus and attentive energy should be present in loud and fast music as well as in softer, more subdued kind of playing. In all his music he explores how motion-clusters can be perceived as one agglomerated sound in motion by using spectralistic fields of tones.
Meinrad Kneer
is a double bass player, composer, improviser, band-leader and label owner. His music moves along the musical boundaries of jazz, improvised, contemporary-composed and ethnic music. He studied double bass and music in the Netherlands (conservatories of Hilversum and Amsterdam), where he quickly entered the Dutch jazz- and subsequently the international scene of free improvisation.
Rudi Fischerlehner
plays drums in various different musical projects that fall between improvised and experimental music, jazz and post-rock. He also composes and produces music for bands, film and performances. Born in 1977 in Austria he was introduced to the drums in his childhood and started playing in bands as a teenager around Linz. Following a brief period studying classical percussion he moved to Vienna, travelled to Africa and China, spent a few month in New York and now resides in Berlin. Puna is the trio's first album as a group.