Veranstaltungen
Mittwoch
14.06.
19:00 Uhr
Musik
thirsty & miserable
Aidan Baker Trio (Ambient Noise/Slowcore) + Kiki Bohemia & Sickerman ( Kraut/Noise/Drone)
doors 19:00 - show 20:00
Tickets: https://vvk.link/2nn1vu8

AIDAN BAKER TRIO
Aidan Baker is a musician from Canada, currently based in Berlin, making guitar-based music ranging from ambient/experimental to post-rock to drone-jazz, both solo and with various groups, mostly notably the dreamsludge duo Nadja. In support of recent releases of his more minimalist slowcore/textural-noise-rock style of music on such labels as Consouling Sounds (BE) and Improved Sequence (IT), and the forthcoming album Engenderine on Midira Records, Baker will be joined by Tristen Bakker on bass and Angela Muñoz Martínez on drums. Tristen makes noise / soft noise / prog / not prog / ambient / punk music in Berlin. Angela is a musician and performer from Seville, Spain. She plays with several groups in Berlin, including nunofyrbeeswax and (also with Aidan) Hypnodrone Ensemble, and is deeply influenced by her background as a dancer.

Kiki Bohemia is a singer and autodidactic player of lost and found instruments and toys. After being the singer of the legendary Berlin off-swing band Bohemian Crystal and working as a touring and studio musician for international artists, she started recording and releasing her own material, combining classical songwriting and hypnagogic pop with soundscapes and field recordings. She has been writing and producing music for film, art performances and live radio plays as well as being part of various bands and musical projects of her own.

Sicker Man has been producing high-class song material for many years now. He tirelessly hones his sound. The frequency of his output seems to increase continuously. His creativity is boundless and over the years, Vethake has refined his songwriting in every respect. The arrangements are finely crafted and the production is highly impressive. Yet Vethake's actual strength lies in his melodies. For SICKER MAN, the term "hook" is most apt. With instinctive confidence and a minimum of notes, his melodies become hook-lines that are inevitably catchy. His songs have something classic about their character. SICKER MAN displays no fear of the grand gesture. Again and again, he swims in massive, noisy widescreen guitar sounds. But from there it is only a small step to intimate chamber music sketches. Neither one nor the other is an end in itself. Everything serves the song. In those songs, the Berliner evokes wanderlust, desire, euphoria and depression.


Freitag
16.06.
19:00 Uhr
Musik
little league shows
little league shows & my little underground prsnt: MINIMAL SCHLAGER (progressive disco, bln) & WORLD WILD WEB (esotheric pop, bln).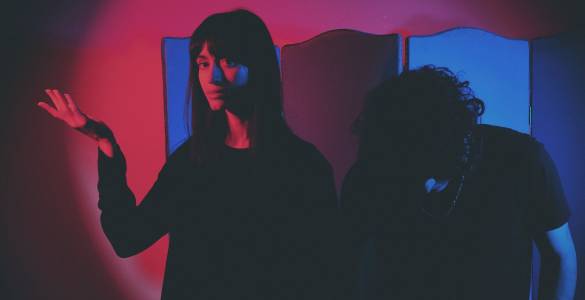 doors 19h, show 20h, aftershow: SOME KIND OF HAPPENING DJ set
little league shows & my little underground prsnt:

MINIMAL SCHLAGER /// synth-pop/progressive disco, bln
minimalschlager.bandcamp.com/ /// instagram.com/minimal.schlager/

& WORLD WILD WEB /// esotheric pop/oblique club music, bln
worldwildweb.bandcamp.com /// instagram.com/world.wild.web.mp3

at Schokoladen. doors 19 uhr, concert starts 20 uhr. tickets for the concert at the doors and in pre-sale --> https://vvk.link/2mky54g

Aftershow DJ set by SOME KIND OF HAPPENNING

---
»Based between London and Berlin, Minimal Schlager operate at the intersection between Italo disco, the darker corners of New Wave and various forgotten sounds picked up in the dive clubs of Berlin, a direct sweet spot between pure pop and haunting, Lynchian synth pop. Following the release of their debut album "Love, Sex & Dreams" recorded by Robbie Moore (Florence + The Machine, LA Salami) on Duchess Box Records, the band went on a European tour performing 30 dates across 8 countries and supporting the likes of The KVB, Ploho, Torres and Lust for Youth.«

---
»World Wild Web is the project of French Berlin-based producer and singer Manuel Jesus, evolving between leftfield electronic, oblique club music and esotheric pop. WWW's music is intricate and instinctive, resulting in a wide sonic range which creates a disruptive sound rooted in the Berlin electronic scene. His sound was forged in a pool of chaotic influences, namely 70s protopunk, vintage house, afrobeat, Indian music and dark synth pop.«
---
Over the past few years, Jim Avignon (Neoangin), Paul Pötsch (Trümmer) and Andre Jegodka (What Difference Does It Make) have found themselves in various pop cultural adventures together. From concerts, garden parties or cultural projects, everything was there. However, the great passion of all three is the joy of DJing. So it is the logical to bring their own party to life. The new series with the meaningful name SOME KIND OF HAPPENING lies in the area of tension of Indie Pop, Northern Soul, Girl-Groups, C86 and Post-Punk and should celebrate the love of nerdy music apart from any dogmatisms.
Samstag
17.06.
19:00 Uhr
Musik
JNNRHNDRXX
Einlass: 19 Uhr
Beginn: 20 Uhr
Tickets: https://vvk.link/2i7j4s0
"Who run the World?" war einst der Schlachtruf von Beyoncé. Die Antwort darauf: "Girls!" Die in Berlin wohnhafte Rapperin JNNRHNDRXX (ausgesprochen: Jenner Hendrixx) zitiert den US-amerikanischen Weltstar in ihrem jüngsten Track Mad Bitch und lässt keinen Zweifel daran, wer in ihren Augen das sagen hat: Frauen, und zwar alle Frauen! Für wen sie keine Zeit hat, sind "nervige TERFs". Zu pumpenden Beats rappt sie im Video in hautengem roten Latex-Outfit in fresher Rap-Manier über ihre Liebe zu sich selbst und appelliert zeitgleich an ihr Publikum, ebenfalls zu sich selbst zu stehen und füreinander stark zu sein. In einer Zeit, in der die trans* Repräsentation in den Medien nach wie vor bestenfalls dürftig ist, ist JNNRHNDRXX die "Mad Bitch", die wir brauchen.
Donnerstag
22.06.
19:00 Uhr
Musik
thirsty & miserable
Goldzilla (Deutschpunk/Dreampop, Bln) + ROi!m- & StrOi!- FahrzOi!ge (Hohenschönhausen Oi!)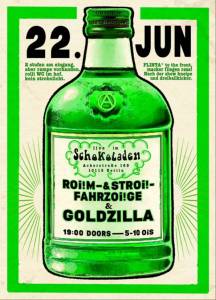 doors 19:00 - show 20:00
Eintritt 5-10oi, no presale, just a stamp at the door.

Goldzilla. Das ist dieser dicke, stückige Strahl den du kotzt wenns dir an Tagen wiediesen mal wieder dämmert, dass zwischen Dorfbumsbierzelt und AZ-Party oft nur einschmaler Grat aus Patches und Punkzines liegt. Musik, von und für Szenespalter, die dir mit Salz und Essig in die offenen Wundengerieben wird. Die dich schubst und bepöbelt und dann doch irgendwie abholt, wassowohl an der musikalischen Exzellenz, den catchy Hooks, als auch nicht zuletzt ander charismatischen Erscheinung der drei Gestalten liegt, die die Goldzilla vs Dortmund geschrieben haben.So wie auch diesen Text, der vor Eigenlob nur so stinkt. Und die Leute halten das Deutschpunk & Dreampop Ding immer für ein witziges Wortspiel, aber dieses Album ist halt genau das.
Samstag
24.06.
19:00 Uhr
Musik
Acid Tongue (US) & Tommy and the Teleboys (DE)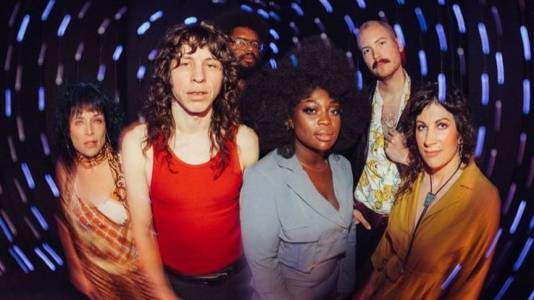 Aftershow with Heller Than Hell & Flux Wildly
REVERBERATION FEST & Süper.Nice.Shows present:
ACID TONGUE (US) + Tommy and the Teleboys (DE)
Aftershow with Heller Than Hell & Flux Wildly

Doors: 19.00
Shows: 20.00
Aftershow: 22.00

ACID TONGUE
Guy Keltner, the primary songwriter for Acid Tongue, took a rough couple of years and turned them into libretto. "I became incredibly depressed and started spending a lot of time at the Arboretum in Seattle. I had just moved home and was spending all day absorbing this diversity of plants and sounds at the park. I poured myself into writing some deeply personal songs, heavily influenced by the artists in my immediate orbit." During the recording of Arboretum, Keltner was diagnosed with bipolar disorder, and decided to get sober from alcohol. "Kicking booze helped me focus in the studio, but I needed help finishing this album. I was incredibly fortunate to work with musicians that I actually listened to and enjoyed. They individually elevated each song to be something beautiful and unique."
The members of Seattle rock & roll outfit Acid Tongue are quite literally bouncing off the walls. In fact, it's hard to even call them a "Seattle band". There's the core duo of songwriter Keltner and drummer/vocalist Ian Cunningham—currently based in the Pacific Northwest—but with numerous touring and studio musicians scattered between Paris, New York, London, Mexico City, Los Angeles, & Austin, the rotating roster seems to grow larger by the day.. The band's latest release, Arboretum, takes things in the next logical direction. Part glam-rock opus, part mixtape, this LP from Acid Tongue marks a significant step forward for a band well-versed in straddling the line between psychedelia and power-pop.


TOMMY AND THE TELEBOYS
...play psychedelic death boogie in the wasteland between Halle and Berlin. Inspired by the raw energy of garage and noise, their music is loaded with a ten-ton shovel of guitar riffs and driving synth lines. Psychedelic soundscapes alternate with hard-hitting fuzz storms and sugar sweet westcoast melodies.This is a sound that yearns for the golden era of psychedelic rock yet plays joyfully with innovation and weirdness.
Tommy and the Teleboys consist of Tommy (Drums,Synth, Vocals) and the Teleboys (Vocals, Guitars, Bass, Synth). This formation came together during the uncertainty of the pandemic. They managed to grow into a well-rehearsed unit after scoring local gigs despite the difficult times. After months of hard work and two studio EPs Tommy and the Teleboys have hit their current style. So no time to rest - new releases are in the making.It*s gonna be wild.

HELLER THAN HELL (Afro, Carribean, Latin, Soul, Funk, Garage, Oriental, Disco, Psychedelic)
https://soundcloud.com/hellerthanhell
https://www.facebook.com/hellerthanhell/
FLUX WILDLY (Weird, Obscure, Rock, Crazy, Tropical, Surprising)
https://www.mixcloud.com/.../radio-brain-wave-20-march-2022/
Reverberation Fest's long-time host jets up the road to deliver musical code.
Montag
26.06.
19:00 Uhr
Musik
Lost Love (catchy Pop-Punk/Montreal) + Wasted Years (Punk/Köln)
Founded in 2013, Lost Love is a melodic pop punk band from Montreal, characterized by their catchy choruses and eternal optimism. To date, the band has played over 350 shows in more than 15 countries across Europe and North America, earning new fans with their unique sound.
Wasted Years from Cologne is a five-piece that plays a dynamic punk sound with youthfull references of the late 90's and early 20th, with vocals that tame the wild distorted beast.
Mittwoch
28.06.
19:00 Uhr
Musik
Punkfilmfest Berlin Booking
TOTAL CHAOS (US) + Daran SchaitertZ (Berlin)
Thirty years ago in Pomona Valley, California, was the birth of Total Chaos. Created outof the desperate need to savea dying genre of punk rock, during a time that the market was saturated with a more commercial new style.It was more important than ever to express their social and political views. The idea of social responsibility was a significant thing, from organizing peace punk picnics, to protesting against the gulf war, their music hada meaning and stood for something. Over the years, the band has seen many things come and go, but they have stuck to their original ideals. Whether you are pop punk, street punk, hardcore punk, straight edge, political punk, goth punk, skate punk, crust punk, metal punk, or whatever box they try to put you in, Total Chaos unites you all into one scene:PUNK ROCK
Freitag
30.06.
19:00 Uhr
Musik
little league shows
little league shows & dq prsnt: PRINCESS THAILAND (post-punk/no-wave/noise-rock, fr) + SOFT PATTERN (indie rock, bln)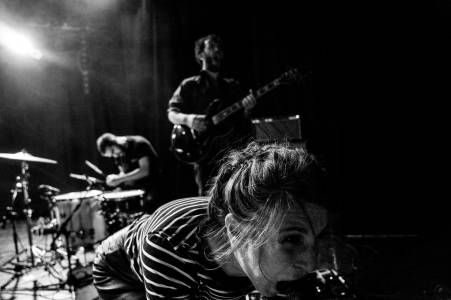 doors 19h, show 20h, aftershow djs tba.
little league shows & dq agency prsnt:

PRINCESS THAILAND /// post-punk/no-wave, fr
princessthailand.bandcamp.com /// instagram.com/princess_thailand/

& SOFT PATTERN /// indie rock/post-punk, bln
softpattern.bandcamp.com /// instagram.com/softpatternsounds

at Schokoladen. doors 19 uhr, concert starts 20 uhr. tickets at the doors and in pre-sale --> https://vvk.link/2nmkqk0

aftershow djs tba.

---
»After two albums, the first eponymous in 2018 and And We Shine in 2020 (A Tant Rêver du Roi / Luik Records), PRINCESS THAILAND joined again, since July 2022, the Studio Barberine at their publisher Arthur Ferrari, in order to record a new album. During a tour of german stages in August 2022, the band delivered a strong and impressive live experience, the anchor of a sound material in permanent evolution.
Powerful and melancholic, their music is a physical experience, a sound cloud that owes as much to rock as to noise, to no wave as to post-punk. Always in search of a strong identity, Princess Thailand tries new sound experiments in the will to feed a coherent and rich artistic proposal. This one is fully expressed by the choice of a frontal and percussive female voice, combined with feverish and abrasive textures.
Currently in the recording phase, the band is showing ambition for a new inspiring and explosive artistic effort through new tracks in the making.
This new album, scheduled for release in the fall of 2023 on their label A Tant Rêver du Roi, is already shaping up to be a must-have.«

---
SOFT PATTERN is a Berlin based post-punk outfit with Mauro Trotta on drums, Joachim Lenz on bass and Santiago Perez on guitars and vox. They released their first album, Subject Matter, in November of 2022. Their sound blends noisy post-punk drive with indie rock's idiosyncrasies.