Veranstaltungen
Dienstag
30.05.
19:00 Uhr
Musik
little league shows
little league shows prsnts: F.E.I.D.L (garage art punk, aut) + tba.
doors 19h, show 20h
little league shows prsnts:

F.E.I.D.L (garage art punk, aut) + tba.

phantomrecords.bandcamp.com/album/w-dmusik

more infos & presale very soon!

---

F.E.I.D.L. ist eine Art-Punk Band aus Wien. Die Texte sind wienerisch und sehen sich in der Tradition des Wiener Grant gepaart mit morbidem Charme. Textlich wird viel auf das Stilmittel der Überzeichnung gesetzt. Comicheft werden Kurzgeschichten aus dem Leben in Wien erzählt. Systemkritik versteckt in skurrilen Anekdoten. So oder so ähnlich. Die erste 7" wurde wie die aktuelle Lp auf PHANTOM RECORDS veröffentlich.

Rezensionen:

"Es braucht schon Chuzpe, sein Debüt "Wödmusik" zu nennen. "Erstklassige Qualität, lässig dargeboten", ließe sich der Titel ins Hochdeutsche übersetzen. Aber recht hat er, der fidele Wiener Haufen: Garagenrock, Punk und ein Schuss Voodoo Jürgens treffen auf unbekümmert hingerotzte Texte à la "Gestern warst no ganz entspannt bei mir /Heit ruafst an und sagst es ist kompliziert / Schmusen zu dritt oder zu viert / Und heite samma olle infiziert." Holterdipolter, olé. (Big Cake /Phantom) GS" (Falter)

"F.E.I.D.L. is a garage-y post-punk band from Vienna. They play repetitive beats topped with fuzzy guitars. The bass and drums stomp out a catchy, yet mechanical locomotive chug. Based solely on their sound the vocals seem frank and earnest. I have no idea what they are saying so they could be really sarcastic and silly which would make me happy. Mixing all of that together F.E.I.D.L. gives off a detached type of cool noise that's appealing to my ears." (Maximum Rock N Roll)
Mittwoch
28.06.
19:00 Uhr
Musik
Punkfilmfest Berlin Booking
TOTAL CHAOS (US) + Daran SchaitertZ (Berlin)
Thirty years ago in Pomona Valley, California, was the birth of Total Chaos. Created outof the desperate need to savea dying genre of punk rock, during a time that the market was saturated with a more commercial new style.It was more important than ever to express their social and political views. The idea of social responsibility was a significant thing, from organizing peace punk picnics, to protesting against the gulf war, their music hada meaning and stood for something. Over the years, the band has seen many things come and go, but they have stuck to their original ideals. Whether you are pop punk, street punk, hardcore punk, straight edge, political punk, goth punk, skate punk, crust punk, metal punk, or whatever box they try to put you in, Total Chaos unites you all into one scene:PUNK ROCK
Samstag
08.07.
19:00 Uhr
Musik
little league shows
my little underground & lls prsnt: JETSTREAM PONY (indie-pop/post-punk, uk) & THE BV'S (indie/shoegaze, ger)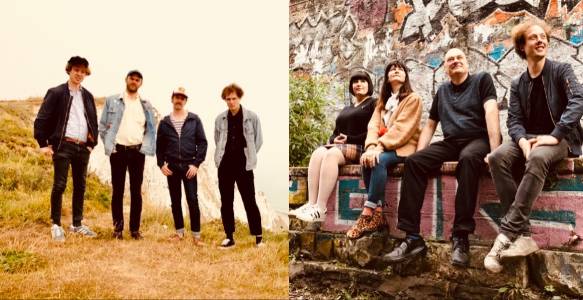 doors 19h, show 20h, djs after 22h
my little underground & little league shows präsentieren:

live:
JETSTREAM PONY (uk)
THE BV'S (ger)

DJs:
DJ Buckingham Rabbit
Mc Dirlenbakker
Dj Dreams Never End

Einlass: 19 Uhr
Beginn: 20:00 Uhr
tickets fürs konzert an der tür oder im vorverkauf --> https://vvk.link/2l9hw7k

DJs nach 22h.

---
JETSTREAM PONY spielen schrammeligen Post-Punk und Indie-Pop und haben ihren Sitz in Brighton und Croydon UK.

Die Band besteht aus Beth Arzy (The Luxembourg Signal, Lightning in a Twilight Hour, Trembling Blue Stars) am Gesang, Shaun Charman (The Wedding Present, The Popguns) an der Gitarre, Kerry Boettcher (Turbocat) am Bass und Hannes Mueller (The BV's, Endlich Blüte) am Schlagzeug.

Die Band veröffentlichte Ende 2017 ihre Debütsingle "Like You Less"/"Had Enough", die auf der ganzen Welt, darunter BBC6 Music, gespielt wurde. Mit der 12-Zoll-EP "Self-Destruct Reality" und der Single "I Close My Eyes" tourte die Band durch Großbritannien und Deutschland, bevor sie im Mai 2020 das selbstbetitelte Debüt-Studioalbum bei Kleine Untergrund Schallplatten und Shelflife Records veröffentlichte und dafür fantastische Kritiken (darunter fünf Sterne im Shindig-Magazin) erhielt.

Beide Pressungen waren rasch ausverkauft, bevor das Album im Herbst 2020 auf Spinout Nuggets auf Vinyl neu aufgelegt wurde und viele Best-of-Year-Listen erreichte.

Zwei weitere ausverkaufte Singles folgten zusammen mit einem neuen Mini-Album "Misplaced Words" im Dezember 2021. Das Album entwickelte den Sound des Debütalbums weiter, wobei die Balance zwischen Indie-Pop und etwas Dunklerem intakt blieb. Beths wunderbare Stimme und die zwölfsaitige Gitarre werden von schweren Bässen untermauert, Harmonien von einer manchmal aus zwei Schlagzeugern bestehenden Rhythmusgruppe.

https://jetstreampony.bandcamp.com

---
THE BV'S sind eine vierköpfige Musikgruppe aus Augsburg. Ihr selig melancholischer, schleifenartig desintegrativer Mix aus Twee, Shoegaze und Krautrock entsprang 2016 aus einer schicksalhaften Begegnung im kaskadierenden Granitgrau eines nassen Winters in der englischen Grafschaft Cornwall.

Im Rahmen eines Universitätsaustauschprogrammes zog Fred als Mitbewohner bei Josh ein, gegen Ende des Semesters entstanden in kurzer Zeit in bester DIY Manier die Lieder und Aufnahmen zum ersten Album "Speaking from a Distance". Mit Ihrer Musik kombinieren sie unbefangen die verworrene Romantik von c86 bzw. Sarah Records mit der repetitiven Experimentierfreudigkeit von Krautrock und verhalltem, sehnsüchtigem Shoegaze.

Für the bv's charakteristisch entstehen in dieser Synthese sowohl dreiminütige, janglige Popsongs als auch extensive Kraut-Improvisationen. Seit 2016 veröffentlichte die Gruppierung zwei Alben und eine EP auf dem deutschen Indie-Label Kleine Untergrund Schallplatten, sowie Singles und EPs bei internationalen Indie-Labeln wie Cloudberry Records (USA), und tourte in Europa und Großbritannien

https://thebvs.bandcamp.com
Montag
10.07.
19:00 Uhr
Musik
little league shows
reverberation fest & little league shows prsnt: MARGARITAS PODRIDAS (mex) & BLUE CHESTERFIELD (cz)
doors 19h, show 20h
MARGARITAS PODRIDAS
...(Rotten Daisies) is a rock band formed in Hermosillo, Sonora, which consists of Carolina Enríquez (bass/vocals), Esli Meuly (guitar) and Rafael Armenta (guitar/drums). Their debut album "Porcelain Mannequin" was released in 2018, it is available on all common music platforms and it was released on vinyl. Three years later they released their second album self-titled "Margaritas Podridas" in April of 2021 and they have been very active since, playing important shows in Mexico and United States such as opening for IDLES in Mexico City at Palacio de Los Deportes, Festivals such as Golden Voice's This Ain't No Picnic (Pasadena, California) Ruido Fest (Chicago,IL) and opening for the Melvins in Los Angeles. Their latest single "No Quiero Ser Madre" was released recently this year in August, bringing back the punk and raw sound that characterizes the band. Margaritas have recorded important live sessions such as KEXP from Seattle (available on YouTube) and VansChannel666, and they are currently working on the recording of what would be their third album for the next year. In 2023 so far they have already announced a show with The Smashing Pumpkins in Mexico City at Foro Sol among other relevants bands and artists such as Deafheaven, Turnstile and Peter Hook, as well as big bands from Mexico such as The Warning and El Shirota. The festival will take place in Foro Sol which is one of the biggest forums in Mexico with almost 60,000 capacity. Margaritas are one of the most active and outstanding proyects from Mexico's Rock Scene and they have plans to continue touring around the U.S., Europe and Latin America with the purpose of expanding their crowd and sharing their music and contagious energy with the rest of the world.

https://youtu.be/tAbAofaCcfc
https://www.facebook.com/MargaritasPodridas
https://margaritaspodridas.bandcamp.com/
https://www.instagram.com/margaritaspodridas/

BLUE CHESTERFIELD (CZ)
Blue Chesterfield is a project started by singer, poet and multi-instrumentalist David Jirka from Czech Republic who has been later accompanied by several musicians who together created the same titled band. Their influence in more traditional genres like Country, Blues or Psychedelic Rock is a root stone for their sound, but Blue Chesterfield are not afraid to experiment with stuff like Shoegaze, Noise or even Jazz, together with its wild live performances creating a sonic experience that will be remembered.

https://youtu.be/dDx0NBIJZjY
https://www.facebook.com/bluechesterfield
https://bluechesterfield.bandcamp.com/
https://www.instagram.com/_bluechesterfield_/