Thursday 04.11.2021 19:00 Uhr
Musik
Ghost Pony (garage/surf) + GRÓA (punk/isl)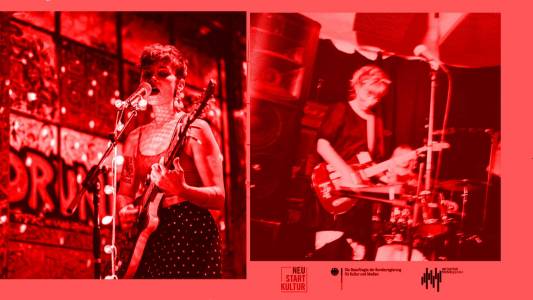 Süper.Nice.Shows prsnts:
Ghost Pony (garage/dreampop/surf/b.) +
GRÓA (indie/isl)
Einlass: 19 Uhr
Auf Grund unserer begrentzen Platzkapazitäten: 2G
Ghost Pony is a German band located in Berlin. The trio plays their own mix of Garage and Surf with dreamy melodies labelled as Mud Pop. Their songs are defined by swampy guitar riffs and a dark voice that sounds like a distant cave echo.

Hot take: the spirit of punk will always belong to the youth. Not to say you can't still be punk as you grow older, but there's something about that visceral reaction to that world that just carries more weight and impact when the torch is carried by the upcoming generation who's dealing with the last generation's bullshit. Case in point, Icelandic trio GRÓA.
Gefördert von: Der Beauftragten der Bundesregierung für Kultur und Medien ("BKM") und der Initiative Musik.